BARF-BAG PUBLISHING

http://ThisIsAReal.Company
PO BOX 210454
MILWAUKEE WI 53221-8008

At Barf-Bag Publishing, we believe that everyone should write books. It's fun, creative, therapeutic, and productive!

Write like no one is reading.

"Barf-Bag Publishing" is a brand of Orphonic LLC; a multi-media company.
Powered by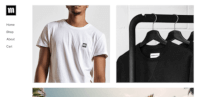 Create your own unique website with customizable templates.